Graduate Studies Announces 2020 UC Davis Grad Slam Finalists
Top ten competitors represent diverse academic disciplines
Graduate Studies is thrilled to announce the top ten finalists for the 2020 Grad Slam competition at the University of California, Davis. 
UC Grad Slam is an annual contest in which master's and Ph.D. students across UC campuses – in disciplines ranging from hard sciences to humanities – compete to sum up their research for a general audience in three minutes or less. Students present the significance and fundamental points of their work at UC Davis in a clear, direct and interesting manner.
Over 90 master's and doctoral students submitted proposals for this year's competition, which kicked off with a series of qualifying rounds on both the Sacramento and Davis campuses on February 10 and 13. Faculty and staff volunteer judges assessed the participants on their presentation skills and the presenters with the top ten scores were selected to move forward to the campus final round on April 7.
The following participants will be moving on to the UC Davis Final Round:
Lindsay Cameron, Ph.D. in Neuroscience
College of Biological Sciences
"Rethinking Psychedelics: Using Psychedelics and Non-Hallucinogenic Analogs to treat Neuropsychiatric Disorders"
Fatima Hussain, Ph.D. in Chemistry *
College of Letters and Science
"Waste Wise"
Paul Kasemsap, Ph.D. in Horticulture and Agronomy *
College of Agricultural and Environmental Sciences
"Mission N-Possible"
Ellen Lai, Ph.D. in Integrative Genetics and Genomics
College of Biological Sciences
"Why Are Cows So Lame?"
Kayce Mastrup, Ph.D. in Education
School of Education
"Storied Identities: The Journey of Eight Preservice Mathematics Teachers"
Morgan Matson, Ph.D. in Chemistry
College of Letters and Science
"Zap! Electrifying Bacteria for a Better Future"
Amelia Munson, Ph.D. in Animal Behavior
College of Biological Sciences
"Sesame Street Smarts:  Understanding the Effects of Developmental Stress on Later Behavior"
Kristina Rodriguez, M.S. in Nursing Science and Health-Care Leadership
Betty Irene Moore School of Nursing
"Resilience and Burnout Among Intensive Care Unit Nurses: The Development of a Debriefing Resource Tool"
Claire Shaw, Ph.D. in Animal Biology
College of Agricultural and Environmental Sciences
"Meet Your Microbiome"
Peter Torres, Ph.D. in Linguistics
College of Letters and Science
"We Can, We Should, We Must, We Shall, and We Will Fight the Opioid Crisis"
*Recipient of a Global Education for All Designation.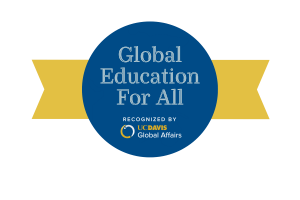 Additional Awards and Designations 
In addition to recognizing excellence in research communication, this year's campus Grad Slam competition will also acknowledge graduate student presentations that are standouts in the areas of global education and public engagement. Based on the qualifying round presentations, Global Affairs has granted a Global Education for All Designation to finalists Fatima Hussain and Paul Kasemsap in recognition of their exploration of globally relevant research topics aligning with Global Education for All—a campus goal aiming to provide 100% of our undergraduate, graduate, and professional students with global learning opportunities that change their lives and our world.
Public Scholarship and Engagement will also be awarding an additional prize of $500 at this year's April 7 UC Davis Grad Slam Final Round. Details about the Public Scholarship and Engagement prize will be released before the event.
Join Us for the Campus Final Round 
The finalists will compete against each other at the UC Davis Final Round during National Graduate and Professional Student Appreciation Week at the Activities and Recreation Center Activities and Recreation Center (ARC) Ballroom on Tuesday, April 7. The event is free and open to the public, and seats can be reserved via Eventbrite. Graduate Studies will be spotlighting each of the finalists in news features in the weeks leading up to the Final Round.
The winner of the campus final round will have the opportunity to compete at the University of California-wide competition on May 8.  Last year's UC Davis champion was Plant Biology Ph.D. candidate Katie Murphy, who went on to win the top University of California prize of $6,000.
For more information about UC Davis Grad Slam, visit the Grad Slam website or contact Kathryn Raley, Program and Event Manager for Graduate Studies, at knraley@ucdavis.edu. 
---
UC Davis Grad Slam Sponsors
Graduate Studies would like to thank this year's UC Davis Grad Slam sponsors for their generosity and support.

The Office of Research serves as the primary campus resource for matters related to research and technology commercialization. OR provides services and resources to simulate research, facilitate collaborations,  optimize infrastructure, ensure compliance and  translate innovations into commercial applications for societal benefit. Learn more by visiting the UC Davis Office of Research website.
Public Scholarship and Engagement (PSE) is fostering a culture of engagement at UC Davis that increases the university's impact through mutually-beneficial relationships that have local, regional, statewide, and global reach. We envision UC Davis research, teaching and learning that serves society and makes a positive difference in the world. Learn more by visiting the Public Scholarship and Engagement website.

Global Affairs brings the world to UC Davis, welcoming more than 10,000 international students, scholars and leaders, and hosting programs that inspire global curiosity, understanding and engagement. Compelled by the valuable outcomes of thinking globally, we make transformative opportunities a reality by supporting the thousands of students and faculty learning and researching globally—and by facilitating collaborations that tackle the world's most pressing challenges through more than 150 global partnerships.
Putting our vision of a UC Davis community that engages, thrives, and leads in this interconnected world into action, Global Affairs is in pursuit of an ambitious goal: Global Education for All.
---
About Graduate Studies
Graduate Studies at UC Davis includes over 100 dynamic degree programs and a diverse and interactive student body from around the world. Known for our state-of-the-art research facilities, productive laboratories and progressive spirit – UC Davis offers collaborative and interdisciplinary curricula through graduate groups and designated emphasis options, bringing students and faculty of different academic disciplines together to address real-world challenges.
UC Davis graduate students and postdoctoral scholars become leaders in their fields: researchers, teachers, politicians, mentors and entrepreneurs. They go on to guide, define and impact change within our global community.

For information on Graduate Studies' current strategic initiatives, visit the Graduate Studies strategic plan page.
Secondary Categories