Plant Bio Grad Student Katie Murphy of UC Davis Wins Systemwide Grad Slam
Updated 1:45 p.m. May 10:
Katie Murphy of UC Davis won today's UC Grad Slam, judged the best at summarizing her research for a general audience in three minutes or less. She competed against other campus Grad Slam winners — and became the first UC Davis student to take the systemwide championship. Congratulations, Katie!
A video of the UC Grad Slam Final Round is available on the Graduate Studies Facebook page.
---
Original story, March 15:
"Let's see by a show of hands, how many of you had lunch today? Now keep your hand up if you'd like to eat lunch 20 years from now."
That's how Katie Murphy, a Ph.D. candidate in the Plant Biology graduate group, opened her award-winning research presentation at the UC Davis Grad Slam Finals on March 13. Her three-minute talk on corn stress resistance earned her the title of 2019 UC Davis champion and the $2,500 prize.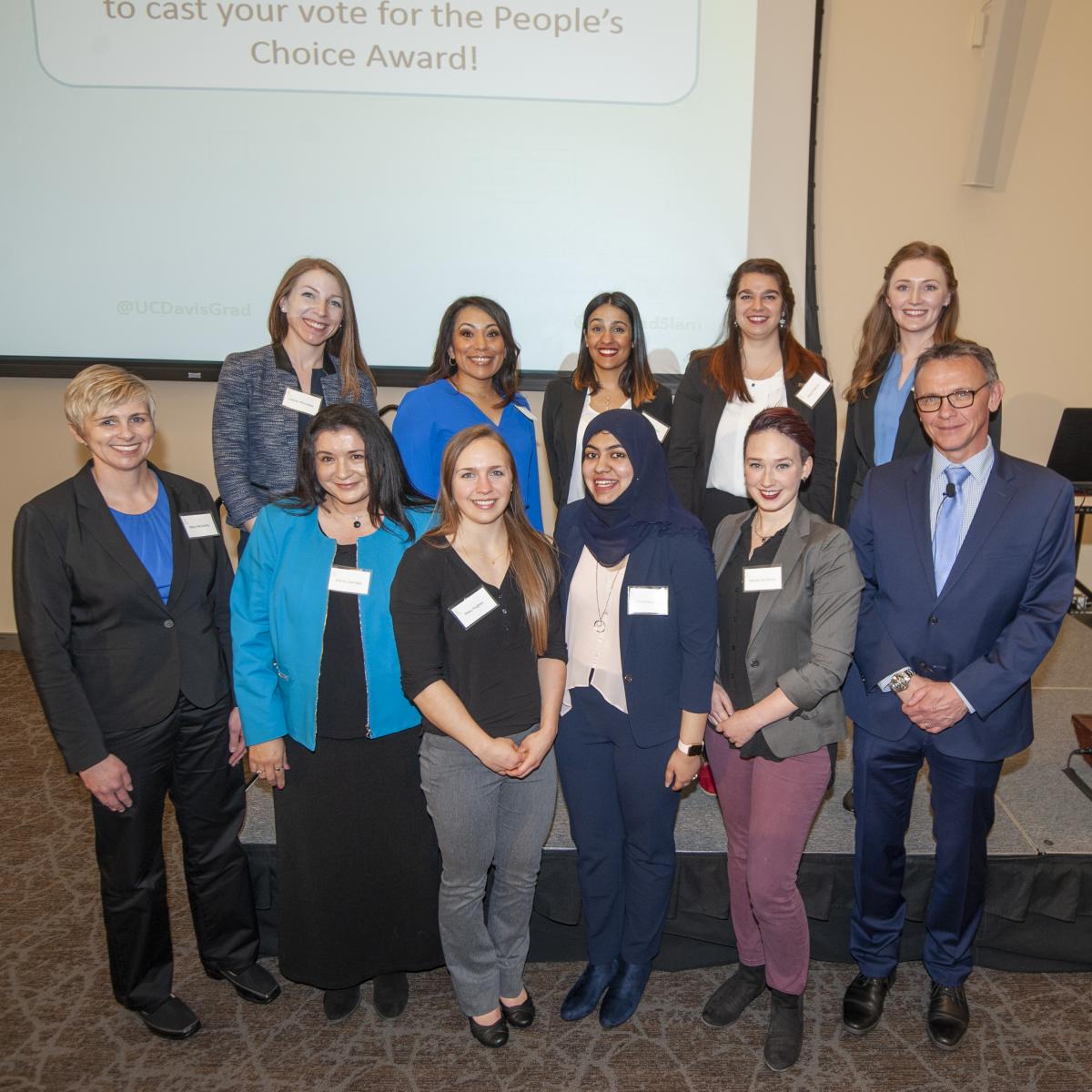 UC Grad Slam is an annual contest in which master's and Ph.D. students across UC campuses – in disciplines ranging from hard sciences to humanities – compete to sum up their research for a general audience. Students present the significance and fundamental points of their work at UC Davis in a clear, direct, and interesting manner. Now in its 5th year, the 2019 UC Davis tournament inspired over 80 participants from UC Davis' graduate programs.
Over $5,000 in prizes were awarded at the March 13 event, which featured presentations from the top ten finalists from both the Davis and Sacramento campuses. Returning finalist and Nutritional Biology Ph.D. candidate Riley Hughes took home the second-place prize, while Political Science Ph.D. candidate Nahrain Rasho won both the third-place title and the people's choice award.
Known as the "Corn Queen" to her friends and colleagues, Murphy's research in the Zerbe Lab in the Department of Plant Biology shows how chemical compounds help corn defend itself against pathogens. Her three-minute Grad Slam presentation succinctly stressed the importance of bolstering the world's food supply and protecting it from disease. Murphy and other UC Davis researchers were profiled in a recent College of Biological Sciences feature story called 'Feeding the Future.'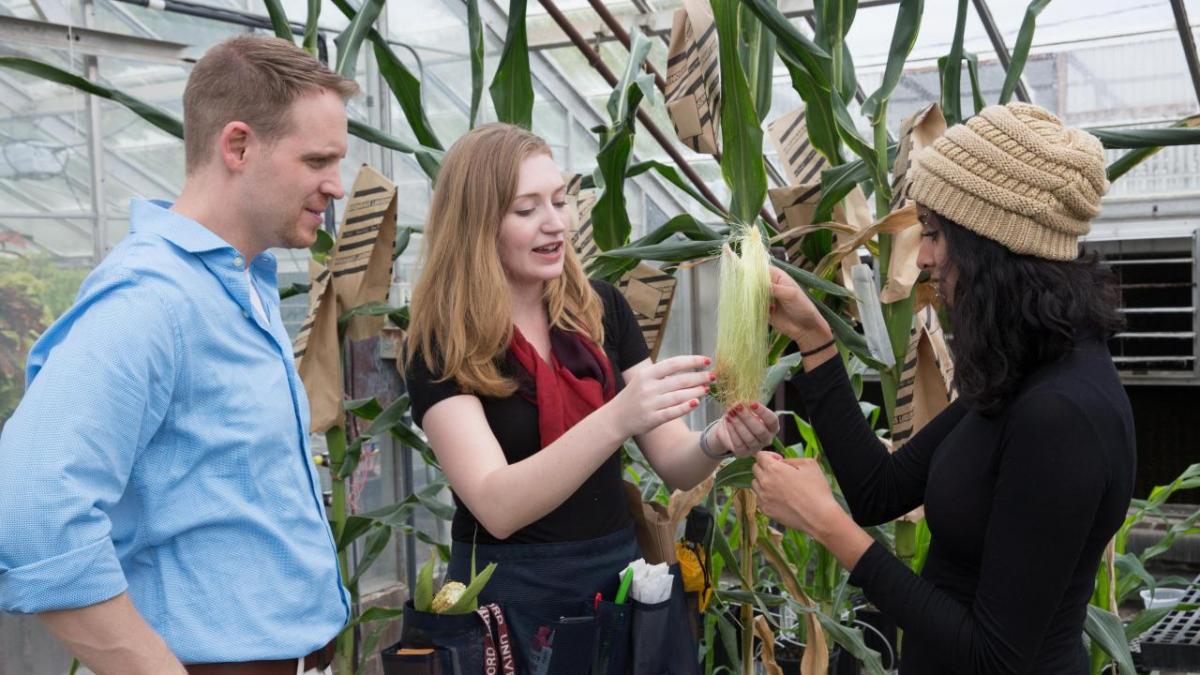 In her post-presentation interview with Vice Provost and Dean Jean-Pierre Delplanque, Murphy discussed how her family helped hone her research communications skills. "I'm the only scientist in my family, and my parents are both in sales. I love talking about my research and sharing with them what I do every day, but I have had to find a way to explain things in a way that makes sense to my parents who haven't taken a science class since high school," she said. "They've helped me learn to sell my research and explain it in a way that makes sense to everyone."
Katie has participated in a number of professional development programs, including the designated emphasis in Biotechnology and Leaders for the Future, a cross-campus collaboration focused on applied career experiences. "The Designated Emphasis in Biotechnology is a program to learn how to take what I'm doing in the lab and turn it into a realistic application," explained Murphy. "This program has helped me learn about scaling up research, de-risking technology, and the business of biology. Along with the Leaders for the Future program, which trained me in communication and entrepreneurship, I've learned how to make my research interesting and applicable to people who aren't just chemistry or corn nerds."
Murphy will represent UC Davis at the University of California Grad Slam Finals on May 10 in San Francisco, where she'll compete against contestants from the other nine UC campuses. "I am so excited to represent my lab and UC Davis at the UC Finals," enthused Murphy. "Most importantly, I can't wait to share how incredible the chemistry of corn is with everyone!"
---
About Graduate Studies
Graduate Studies at UC Davis includes over 100 dynamic degree programs and a diverse and interactive student body from around the world. Known for our state-of-the-art research facilities, productive laboratories and progressive spirit – UC Davis offers collaborative and interdisciplinary curricula through graduate groups and designated emphasis options, bringing students and faculty of different academic disciplines together to address real-world challenges.

UC Davis graduate students and postdoctoral scholars become leaders in their fields: researchers, teachers, politicians, mentors and entrepreneurs. They go on to guide, define and impact change within our global community.

For information on Graduate Studies' current strategic initiatives, visit the Graduate Studies strategic plan page.
Secondary Categories