The Graduate Student Advisor to the Dean of Graduate Studies and Chancellor
When to Contact the GSADC
Are you a current graduate or professional student at UC Davis? If so, the GSADC is available to assist you with a range of issues related to your experiences at UC Davis
These include, but are not limited to:
Questions about where/how to access campus resources
Confidential advice on dealing with difficult situations surrounding faculty, staff, or peers
Discussions about concerns related to administrative policies or graduate/professional student representation
The GSADC is ready and willing to engage with students via email or in person. In-person meetings may take place in the Graduate Studies offices or at the campus location of your choice. To set up an appointment or start a conversation by email, please email this year's GSADC, at gradassistant@ucdavis.edu
As a key leadership position, the Graduate Student Advisor to the Dean of Graduate Studies and to the Chancellor (GSADC) is the campus graduate student representative serving as a voice for graduate student concerns, needs and perspectives. In addition to their work with the Chancellor, the Dean of Graduate Studies, the Graduate Council and other campus administrators, the GSADC meets with graduate students, the Graduate Student Association (GSA) and other graduate student groups and organizations. This position also provides the opportunity for professional development during which the GSADC may hone their leadership skills while also becoming familiar with university administration, particularly in relation to graduate education.
2021-2022 GSADC
Meet Daisy Hernandez, 2021-2022 GSADC
Daisy Hernandez, a UC Davis Ph.D. candidate in Plant Pathology, has assumed the role of Graduate Student Advisor to the Dean of Graduate Studies and to the Chancellor (GSADC) for the 2021-2022 academic year.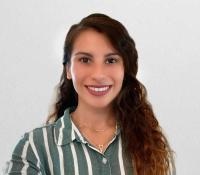 Daisy will serve as the primary student representative for graduate students at UC Davis, serving as a voice for graduate student concerns, needs and perspectives. Over the course of a year, she will work closely with Chancellor Gary May, Vice Provost and Dean of Graduate Studies Jean-Pierre Delplanque, Graduate Council and other campus leaders.
Prior to assuming the role of GSADC, Daisy served as President of the Department of Plant Pathology Graduate Student group, where she coordinated networking events, fundraisers, and professional development workshops. Daisy has also mentored first-generation undergraduate students interested in mycology and worked as a teaching assistant for the Department of Plant Pathology, where she assisted undergraduate students better understand the interdisciplinary concepts of Global Disease Biology.
Additionally, Daisy has dedicated her time in academia to helping underprivileged youth prepare for success in STEM fields. As a member of the Mexican American Student Association, she tutored K-12 Pomona students in math, science, and English. She has regularly visited her hometown in the Imperial Valley to present at local elementary and middle schools about pursuing and preparing for STEM majors at four-year universities. She has also engaged K-12 students in learning and science as a camp counselor at the CPP Science Discovery Camp.
Email Daisy at gradassistant@ucdavis.edu if you would like to arrange a meeting to voice concerns about administrative policies, input your opinion on graduate student representation, or discuss difficulties encountered in your course of study.