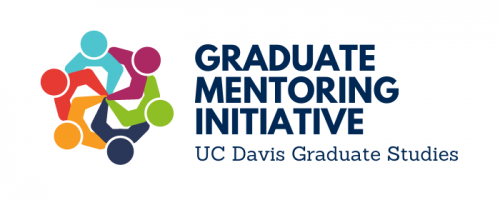 Overview
The Graduate Mentoring Initiative (GMI) offers a holistic mentoring program aimed at fostering a culture of faculty-graduate student mentoring across all academic disciplines. 
The GMI curriculum showcases lived experiences and resources at UC Davis, as well as  our own recognized and renowned mentors as campus leaders who promote the value and impact of positive mentoring experiences.  UC Davis faculty, appointed Mentor Fellows, facilitate the mentor program for the campus with Graduate Studies Director of Mentoring and Academic Success Initiatives. Faculty discuss best practices, helpful tools, and ways to grow and develop as mentors.
The program was developed in consultation with an advisory board of faculty, graduate students, and staff and piloted to a group of faculty across disciplines during Spring Quarter 2021. The content uses the "Entering Mentoring" curriculum from the Center for the Improvement of Mentored Experiences in Research as a base for the sessions.
Program Sessions
The program consists of six interactive sessions that faculty will participate in as a series with their cohort. The topics include:
Aligning Expectations

Maintaining Effective Communication

Addressing Identity and Belonging

Supporting Mentor and Mentee Well-Being

Promoting Research Self-Efficacy

Articulating a Mentoring Philosophy 
Mentor Fellows
Each GMI session includes at least two UC Davis faculty facilitators (Mentor Fellows) who will lead discussions.
Program Details and Application
Dates: Wednesdays 
Oct. 11, Oct. 18, Oct. 25, Nov. 1, Nov. 8, Nov. 15
Time: 9:00am-10:30am
Location: Walker Hall
Deadline to apply: October 4, 2023
Apply to the Fall 2023 Sessions
Cohort Size
The cohort will be limited to 20 participants. Applicants will be notified if they are accepted into the program. There will be a waitlist enabled and used as needed.
Eligibility
Applicants must be a member of a UC Davis graduate group or program and should be a member of the Academic Senate or have the following Academic Federation titles: Adjunct Professors, CE Specialists (with Educator without Salary appointment), and Professional Research series (with Educator without Salary appointment).
Elizabeth Sturdy, Director of Mentoring and Academic Success Initiatives