The ceremony of commencement is the most formal occasion celebrated by the university, and the participants traditionally wear academic dress, their official robes of office. 
History of the Ceremonial Dress
The origins of academic dress date back to the Middle Ages, when learning  was largely confined to the church. The cap, gown and hood of modern usage descended from articles of dress worn by church dignitaries, likely for warmth in unheated buildings.  
Cap Variations
The cap is worn by holders of all degrees, but those with doctorates are entitled  to wear a gold tassel and may substitute a velvet tam. 
Gown Variations
The gowns have, for the bachelor's degree, pointed sleeves; for the master's degree, oblong sleeves; and for the doctoral degrees, round, bell sleeves with bars of velvet either in black or in the degree color. 
Hoods
Holders of higher degrees wear the hood, which represents a cowl that was used at one time to cover the head. The doctor's hood is slightly longer than the master's and has a rounded shape. The hoods are lined in the school colors. The University of California colors are blue and gold.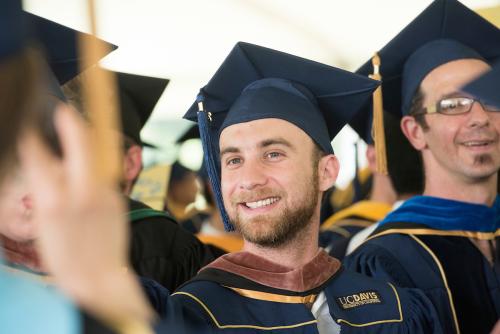 Silk Color Variations by Discipline
Each hood has a silk, satin or velvet border on the outside in colors representing the discipline in which the wearer received his or her degree. The assignment of those colors was standardized in the United States in the late 19th century. The can include:
Green - the color of medieval herbs, for medicine, maize for agriculture.
Golden yellow - standing for the wealth that scientific research has produced, for the  sciences.
The trim for Doctor of Philosophy is dark blue. Some other examples of disciplines include:
Arts and Letters - White
Business - Beige
Education  - Light Blue
Engineering or Fine Arts - Brown
Law - Purple
Veterinary Medicine - Gray
Hood Colors for Other Institutions 
At commencement, you may notice your faculty wearing their ceremonial hoods from their degree-conferring institution. A few examples of other University hood colors include: 
University of Chicago - Maroon
Columbia University - Light blue and white
Cornell University - Carnelian and white
Harvard University - Crimson
University of Illinois - Navy blue and orange
Indiana University - Cream and crimson
University of Michigan - Maize and blue
University of Minnesota - Gold and maroon
University of Pennsylvania - Red and blue
Princeton University - Orange and black
Stanford University - Cardinal
University of Washington - Purple and gold
University of Wisconsin - Cardinal
Yale University - Blue