Video of Dr. Steele's MCT talk "Stereotype Threat: How it Affects Us and What We Can Do About It"
Quick Summary
We have to work on trust and safety as an explicit part of creating environments that function well for everyone in them.
Last month, Graduate Studies and Mentoring at Critical Transitions (MCT) were honored to host a lecture featuring Dr. Claude Steele, social psychologist and Executive Vice Chancellor and Provost of UC Berkeley. In addition to his teaching and administrative accomplishments in various institutions such as former positions as Provost of Columbia University, Dean of Stanford Graduate School of Education and Chair of the Department of Psychology at Stanford, Dr. Steele is best and widely known for his work on stereotype threat and its application to academic performance in minority groups. His lecture, "Stereotype Threat: How it Affects Us and What We Can Do About It," emphasized how perceived threats negatively impact members of underrepresented minority groups in particular important life transitions, such as attending graduate school.
Opening remarks and introduction were given by Jeff Gibeling, Vice Provost – Graduate Education and Dean – Graduate Studies, and Ralph Hexter, Provost and Executive Vice Chancellor of UC Davis. "We find ourselves in a predicament in which individuals feel at risk of confirming negative stereotypes…. Research in this area is especially vital as we attempt to create the social conditions that will allow all individuals to succeed and thrive," Provost Hexter said.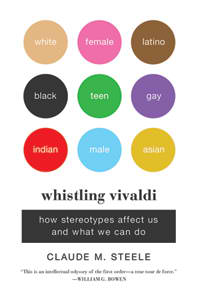 Much of his research also overlaps with a deep understanding of identity. Dr. Steele posits that even if institutions could strike away prejudice from the environment, organizations would still be left with identity-based problems because the history of identities has always been a highly segregated, hierarchical one. "[We under-appreciate] the degree to which history and identity follow us and complicate the experience of being integrated, even against best intentions. We…need to attend more to where the sense of threat is coming from," he says.
Because performance and achievement are inhibited by the preoccupation in stereotype threat assessment, Dr. Steele addresses the first two vital ingredients for better performing environments: trust and safety. "We have to work on [these] as an explicit part of [creating] environments [that] function well for everyone in them," Dr. Steele says.
Wrapping up the lecture, Dr. Steele provided a series of both poignant and research-based approaches to help mentors diminish stereotype threat:
The mentor's position is powerful, in that he or she can be the person that demands, yet also affirms a student's ability. Not tough love, but recognition and engagement.
Have students talk to each other about personal struggles and attitudes across racial and group divides. The truth is our society is still socially segregated, and in being able to identify with personal struggles regardless of social divides, can reduce the sense of threat.
Good role models and critical mass are important. They don't turn over huge historical roots but they have significant effects at institutions.
Letting your mentee know that ability is expandable. Ability is not necessarily innate and unchangeable; it is  built through devotion, deliberation, focus, and practice.
Dr. Steele concluded by emphasizing the need to help children establish a better foundation early in life to fight against stereotype threat as they enter important phases in their lives."We have to establish identity safety for kids."
Secondary Categories