UC Davis Graduate Student Virtual Exhibition Showcases Work Across the Arts and Humanities
The annual exhibition by UC Davis arts and humanities graduate students will showcase works across the disciplines of art, design, music, creative writing, Native American studies, English, Spanish and French. The exhibition is hosted by the Jan Shrem and Maria Manetti Shrem Museum of Art and can be viewed June 10 through Sept. 6 on the museum's website. This is the second year it will be taking place online due to COVID-19.
"This year's multidisciplinary online exhibition is a testament to our students' resilience and creativity," said Rachel Teagle, museum founding director. "Their work reveals a thriving creative community that found ways to flourish even during a global pandemic. I am so grateful to our faculty colleagues and the museum staff who have been collaborating since last fall to create a meaningful culminating experience."
Despite the pandemic, which has required many of the students to work remotely, 27 students are taking part in the exhibition ­— a number comparable to past years. The majority of participants are from the studio art and design programs, for which an exhibition is a graduation requirement. Individual web pages will showcase the students' work through installation photographs, video, audio and written statements. Many of the students' works connect with larger issues, including climate change, environmental destruction, political divisions, racism, immigration and more. Their projects take a wide range of forms, including photography, ceramics, augmented reality, illustration and jewelry design. 
"This show reflects what our College is all about: thinking across disciplines, exploring today's most pressing issues, and creating transformative works," said Ari Kelman, interim dean of the College of Letters and Science. "From using design to retrofit old technology and bring new life into it to building interactive murals at the U.S.-Mexico border to humanize deportation stories, the depth of cross-disciplinary thinking here is truly remarkable."
Genevra Daley was named winner of the Keister & Allen Art Purchase Prize for an art student and Kaylani Juanita McCard, winner of the Savageau Award for a design student.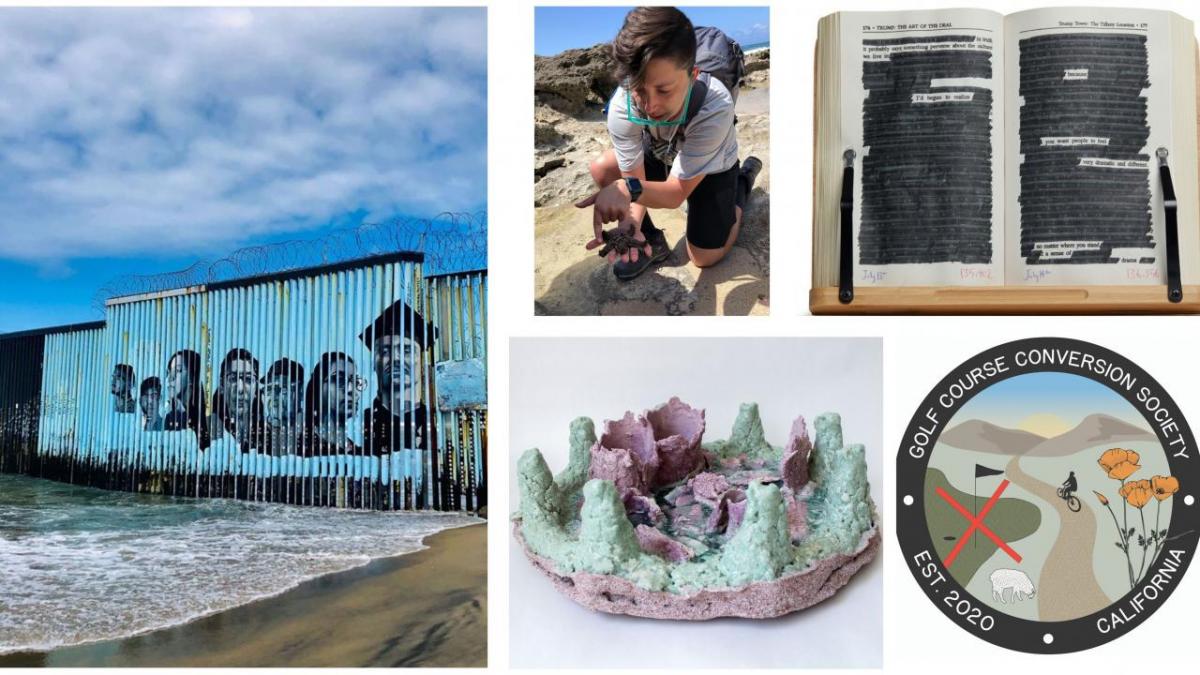 A sampling of what you'll see:
Sam Arcara (art) will present a mix of sculpture and photographs focusing on suburban development and California wildfires.
Dino Capaldi (art) has created ceramic sculptures inspired by the land and life forms of the California coast.
Lizbeth De La Cruz Santana (Spanish) will present a video of a mural she created with community members on the U.S.-Mexico border.
Gretchen LeMaistre's (art) photographic memoir "This Southern Daughter" grapples with her own identity and Southern ancestry in the context of Jacksonville, Florida's white supremacist history.
Elyse Marguerite (design) has developed a tool kit for restoring landscapes and reintroducing native plants and wildlife habitats at decommissioned golf courses.
Margaret A. Miller's (English) photos, written excerpts and audio recordings, titled "Life Forms at Boundaries: a trans*-ecology," weave together transgender theory, an archive of coastal wetland ecologies and a personal history of transmasculinity. 
Nicolle Navarete (design), inspired by recent extreme weather on her native Long Island, New York, is presenting plans for converting retired cruise ships into self-sustaining communities for areas hit by natural disaster.
Jake Rose (creative writing) uses Donald Trump's book The Art of the Deal as a template to explore Trump's last year in office by blacking out much original text, recording the date and cumulative death toll from the coronavirus pandemic, and developing a running monologue.
Sarah Wald's (music) installation uses various versions of an old Sephardic folk song about a brother and sister reuniting that has evolved over time with details reflecting political and social changes. Wald has composed short musical elements that serve as commentary on the song.
Participating Students
Art: Havilah Aos, Sam Arcara, Jesse Aylsworth, Dino Capaldi, Genevra Daley, Mercy Hawkins, Gretchen LeMaistre and Dani Torvik
Art History: Benjamin Weisman and Selena Wrightson
Design: Erik Contreras, Elyse Marguerite, Kaylani Juanita McCard, Jude Mooney, Nicolle Navarete, Sima Pirmoradi, Daniel Malay Tran and Alireza Vaziri
English and Creative Writing: Margaret A. Miller, Allison Fulton and Jake Ros
French: Zachary Scovel and Poonam Vayae
Music: Aida Shirazi and Sarah Wald
Native American Studies: Haley Rains
Spanish: Lizbeth De La Cruz Santana
Featured Image from Graduate Student Mercy Hawkin's Thesis Project: Invitation to the Marriage of Sea and Grass.
Secondary Categories