UC Davis Grad Student Sam Bird Takes Poverty Research to the Field in Eastern Africa
Sitting in the main room of a farmer's home in western Kenya, Sam Bird, a Ph.D. candidate in Agricultural and Resource Economics, had a rare chance to put a face to the data he had spent the prior year analyzing.
It was February, 2017, when local maize farmers were tilling their plots by hand with majembe ahead of the season's first rains. Bird had worked as a research assistant on a study in central and western Kenya to learn whether a new maize variety could help farmers improve their livelihoods.
He knew from the data that the new seeds produced higher yields in the season before, so he asked his host what else he liked about the maize.
"The quality of that flour," his host replied. "It's very good. People like it. The flour is sweet and white. Milk white, very white."
Bird's interest in international development began in high school when he took part in a program that sent students to Uganda to build schools. In his junior year, Bird and his classmates raised money and that summer they spent three weeks laying bricks.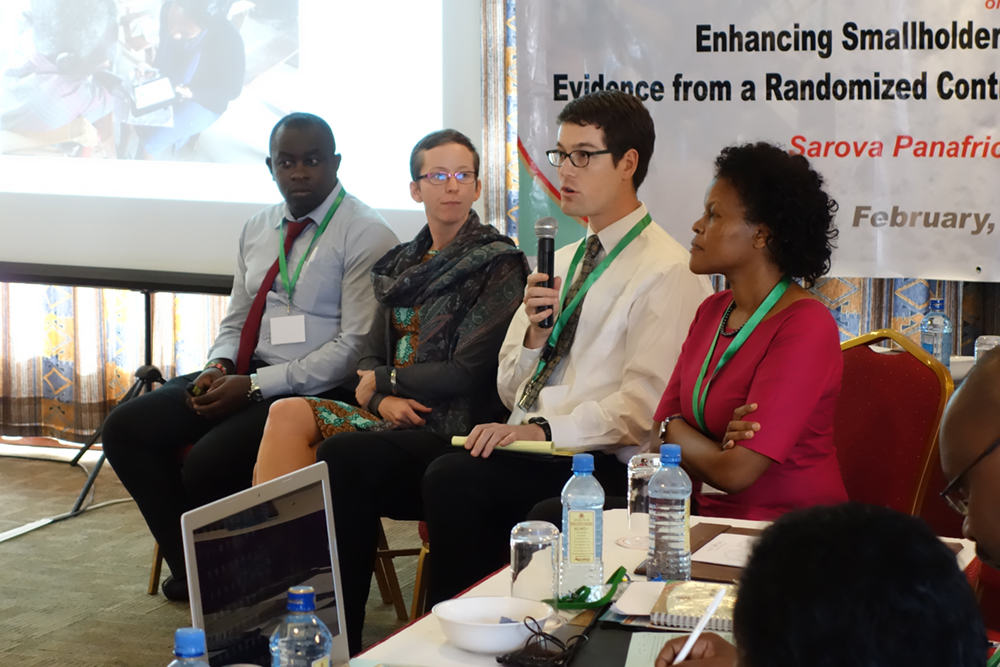 In the village where they volunteered, local families supported themselves growing maize, sugar cane and beans. On his first day there, Bird met children who talked about wanting to become doctors and lawyers but had to walk several kilometers to school each day. In rural Uganda, it's not uncommon.
"You knew it was going to be so tough for them," says Bird.
Bird now says that agriculture is central for understanding how people can support their kids to realize those kinds of dreams. It's one reason why he is studying what keeps farmers from adopting technologies that could help them grow their way out of poverty.
It's also why he is studying at UC Davis. The research opportunities and faculty in the Department of Agricultural and Resource Economics aligned well with his interests in development. He also thought he would have the chance to go into the field to collect data and to work with companies and governments to make positive change for farmers.
Now in his fifth year at UC Davis, Bird has traveled extensively in Uganda as well as Kenya. The two countries share a border, Kenya on the west and Uganda on the east, meeting partially at Lake Victoria. Bird says the countries are similar in a lot of ways, and in both countries small-scale farmers share many of the same problems he plans to continue studying.
Right now Bird is helping to launch a new project in partnership with the World Bank and the Government of Uganda. He and his faculty mentor Michael Carter, a professor of agricultural and resource economics and director of the Feed the Future Innovation Lab for Assets and Market Access, will evaluate the impacts of a subsidy program that helps farmers buy more productive inputs like improved seeds and chemical fertilizers.
Bird says that when he first began this work, he wanted to have an impact on the world, but admits that pursuing a Ph.D. is a relatively extreme route to achieve that goal. He likes the idea of being able to have an impact on programs and policy but also to take a step back and look at the academic research that supports it. He says it's also interesting to go into the field to learn first-hand about peoples' lives.
"It can be difficult to juggle it all, but it definitely keeps things exciting."
---
About Graduate Studies at UC Davis

Graduate Studies at UC Davis includes 99 dynamic degree programs and a diverse and interactive student body from around the world. Known for our state-of-the-art research facilities, productive laboratories and progressive spirit – UC Davis offers collaborative and interdisciplinary curricula through graduate groups and designated emphasis options, bringing students and faculty of different academic disciplines together to address real-world challenges.

UC Davis graduate students and postdoctoral scholars become leaders in their fields: researchers, teachers, politicians, mentors and entrepreneurs. They go on to guide, define and impact change within our global community.

For information on Graduate Studies' current strategic initiatives, visit the Graduate Studies strategic plan page.
Secondary Categories