Director of Grad Programs Shares First-Gen Perspectives on Her Graduate Experience
Director of Grad Programs Shares First-Gen Experience
Quick Summary
Nicole Rabaud, Ph.D. '02 shares story of past insecurities to encourage other grad students
Director of Grad Programs Shares Her First-Gen Experience
Nicole Rabaud, Ph.D. '02 shares story of past insecurities to encourage other grad students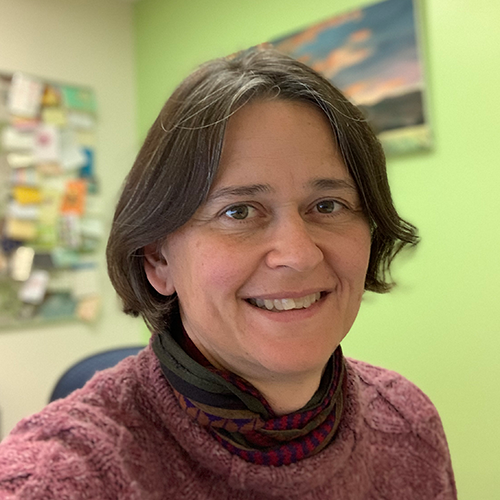 When first-generation student Nicole Rabaud was pursuing her Ph.D. in agricultural and environmental chemistry at UC Davis she felt "really lost."
Rabaud was born and raised in Hong Kong to parents of French and French-Vietnamese descent whose education never progressed beyond high school. Despite her parents' lack of university education, Rabaud excelled at school from elementary school through college. When she got to graduate school at UC Davis, however, things changed. 
"I kind of hit a wall because grad school wasn't anything like what I had experienced before," she said. "It was research and apprenticeship focused. I had bad imposter syndrome. I felt like I was paddling like a duck, pretending everything was fine but I was feeling really lost my first couple of years. I wondered, why had I been so successful in school before, and now I was struggling to see the point of it."
Rabaud unfortunately fell into a "pretty bad depression" for several years. When it came time to take her qualifying exams, Rabaud looked forward to the opportunity because she thought the moment would end her Ph.D. pursuits.
"I thought, this is the point where my luck has run out. They are going to figure out that I don't know anything and they are going to kick me out," she said. "Then I passed my QE."
Realizing that her Ph.D. journey was not over but her depression was persisting, Rabaud started going to therapy through the UC Davis Student Health and Counseling Services and her UC SHIP benefits. 
"That saved my life," she said. "It totally reset my entire way of being and I was able to just really flourish from that. It gave me the emotional tools to handle grad school."
Committed to Improving the Graduate Student Experience 
Rabaud began pursuing her research and studies with renewed vigor and became more integrated with the graduate student community. She became a member of the Graduate Student Association board, served as Graduate Student Advisor to the Dean, and also became a Professors for the Future (PFTF) fellow — a competitive UC Davis program where Ph.D. students learn leadership skills and execute service projects that improve the UC Davis graduate student experience.
Rabaud's PFTF project focused on building a resource website for graduate students during an era of the dawning of the internet, along with two other fellows. She also co-created Grad Link, a monthly e-newsletter filled with workshops and other resources for graduate students that Graduate Studies continues to produce today. 
With another PFTF fellow, Rabaud felt the program should include a leadership development component and serve as an opportunity to learn more about the university as an institutional system from the perspective of administrators throughout the campus. Rabaud's efforts and input transformed the Professors of the Future program to what it is today, according to current PFTF co-director Teresa Dillinger. 
"Nicole used both her vision for making graduate school better and her lived experiences as a graduate student to help transform the Professors for the Future program. We owe her a debt of gratitude for her innovative and generous spirit." said Dillinger.
Because of her PFTF experience, Rabaud became increasingly interested in the structure of graduate education and in university administration. Following her year with PFTF she conducted a research project to investigate graduate student attrition at UC Davis. At the time, there were no official statistics related to it. 
She interviewed graduate student coordinators across the university to learn more about the graduate students the university lost and why they left. Rabaud was surprised to discover the reason they left was rarely due to finances. Instead, the primary reason graduate students didn't complete their studies was because they felt disconnected from the graduate student community.
"It was interesting to discover that there are other environmental factors, and that belonging was super important," Rabaud said. "That is still something we strive for. We are still working to develop a better sense of belonging among grad students."
Rabaud said she uses these findings, plus her own struggles as a graduate student, in her role as director of Graduate Academic Programs in the College of Biological Sciences at UC Davis. In this role, she oversees a cohort of graduate coordinators and helps interdisciplinary graduate groups navigate the university system.
"Nicole has been an outstanding leader of our graduate advising program," said Mark Winey, dean of the College of Biological Sciences. "She has fostered and sustained a spirit of enthusiasm and determination despite the current landscape of remote working, and she has paid tireless attention to the mental health and wellbeing of our graduate student community. In short, she is an exemplar of our campus spirit."
Rabaud is particularly passionate about being an advocate for graduate students of diversity so they can become academic leaders in the future. "Because of my field experience as a graduate student, I understand how graduate students feel in this kind of nebulous environment, especially if they're first gen," said Rabaud who is a mother of two girls and won the UC Davis Graduate Program Advising and Mentoring Award in 2017. "It's really nice when you have a job that you really identify with, and have a sense of purpose and a larger goal."
Secondary Categories