Alumnus Prem Jain Receives Cal Aggie Alumni Association's Distinguished Achievement Award
The Cal Aggie Alumni Association, or CAAA, of the University of California, Davis, announced the recipients of its 48th annual Alumni Awards earlier this week (Feb. 23). 
Prem Jain, M.S. '77, tech entrepreneur and 2017 Graduate Studies Commencement speaker, is among this year's honorees. Jain will be formally presented with the Distinguished Achievement Award at the virtual  "A Night at the Aggies" event on  Friday, May 7. All alumni and community members are invited to attend, free of charge. CAAA will announce at a later date how people can watch the online event.
The Distinguished Achievement Award honors a graduate of UC Davis whose entire lifetime since graduation reflects exemplary and outstanding performance and achievements. Specific criteria used during the selection process include 1) a culmination of lifetime achievements, 2) service to the university and 3) community and public service.
A Legacy of Innovation
This Silicon Valley entrepreneur  has contributed significantly to his profession in disruptive innovation and to UC Davis. He attributes much of his success to the mentorship, education and opportunities he received during his graduate studies.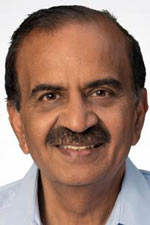 Jain spent 23 years with Cisco Systems, launched five successful startups and most recently co-founded a cloud and enterprise data center startup, Pensando Systems, where he serves as CEO. Last year Pensando earned the No. 4 spot on Business Insider's list of "Enterprise Startups to Bet Your Career On." 
He has contributed his industry knowledge and experience while serving on the College of Engineering's Computer Science Advisory Board, advised students on entrepreneurship, brought his recruitment team to UC Davis and mentored fellow Aggies. He is a member of the Chancellor's Board of Advisors.
In his 2017 commencement address, Jain he shared the story of how he immigrated to the U.S. as a student with just $7 in his pocket. His educational experience combined with his entrepreneurial spirit helped him find career success.
The following year, Jain and his family established the Prem Chand Jain Family Presidential Chair for Innovation and Entrepreneurship in the College of Engineering by committing a $1.5 million gift to promote innovation and entrepreneurship among UC Davis undergraduate and graduate students. 
See the full list of 2020 CAAA award recipients on the main UC Davis website.
---
About Graduate Studies
Graduate Studies at UC Davis includes over 100 dynamic degree programs and a diverse and interactive student body from around the world. Known for our state-of-the-art research facilities, productive laboratories and progressive spirit – UC Davis offers collaborative and interdisciplinary curricula through graduate groups and designated emphasis options, bringing students and faculty of different academic disciplines together to address real-world challenges.

UC Davis graduate students and postdoctoral scholars become leaders in their fields: researchers, teachers, politicians, mentors and entrepreneurs. They go on to guide, define and impact change within our global community.

For information on Graduate Studies' current strategic initiatives, visit the Graduate Studies strategic plan page.
Secondary Categories