A Triple Champion for Grad Students
Gwen Chodur advocates for grad students at local, state and national level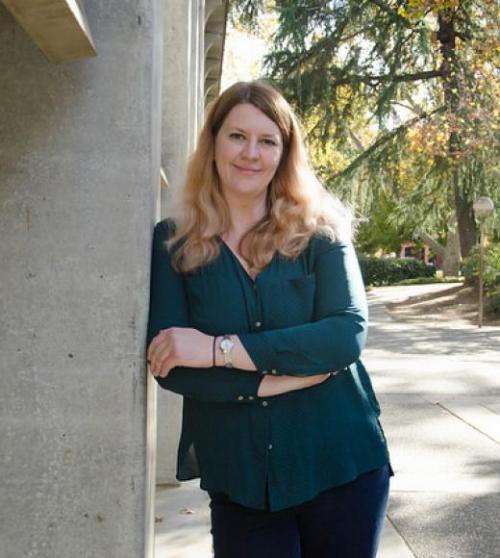 Ph.D. candidate Gwen Chodur is a three-time champion—not for a sports achievement, but rather, for advocating on behalf of graduate students locally, statewide and nationally.
In addition to pursuing a doctoral degree in nutritional biology at UC Davis, Chodur is concurrently serving as external vice president of the Graduate Student Association (GSA) at UC Davis, president of University of California Graduate and Professionals Council (UCGPC), and president of the National Association of Graduate-Professional Students. Chodur also has played an integral role in bringing major changes to UC Davis that have improved the livelihood of countless graduate students, now and for years to come.
Chodur said she is motivated to dedicate so much of her time toward serving the graduate student community because, as a first-generation college student,  her own graduate-student experience has been life altering.
"It comes down to the fact that I know how transformative my time at Davis has been and what that means to me," Chodur said. "And I really believe that we need to do everything we can to make sure that experience is attainable for anybody who is looking to come here to do a graduate degree."
Student Basic Needs Center
As Chodur has progressed her own academic career and served in various graduate-level leadership roles, she's seen how precarious the pursuit of a Ph.D. or postdoctoral education can be for students — especially those who are first-generation, low-income or parenting.
"Many of us don't have a safety net and these little one time things can be the difference between finishing your degree or dropping out," she said.
These "things" can be anything from raising a family on a graduate student stipend to finding housing to dealing with medical bills from an unexpected health issue. Chodur has seen how these unexpected things can often cause people to abandon their dream of an advanced degree. Wanting to rectify this problem and help create a safety net for her fellow students, Chodur worked with other Global Food Initiative Fellows—a program she was a part of at the time—to guide the vision of a Aggie Compass Basic Needs Center that serves both undergraduate and graduate students and postdoctoral scholars at UC Davis.
The Aggie Compass Basic Needs Center does everything from provide housing assistance and work with financial aid to find emergency grants for students to make referrals for mental health services and provide a professional wardrobe for students going on job interviews.
"Anything and everything basic needs they are doing," she said.
Since the center launched in June of 2018 it has served hundreds of students community thanks to in-kind and cash donations from a myriad of donors. Learn how you can support Aggie Compass Basic Needs Center for graduate students and post-doctoral scholars.
"Seeing that open was humbling," she said. "It was a remarkable experience and I was really proud to be a part of it."
GSA Pantry
Chodur and other GSA leadership also heard from students that there was an expressed need for a student pantry that was specifically for graduate students and postdoctoral scholars. According to a recent UC study, 26 percent of graduate students have experienced food insecurity.
Although the Associated Students of UC Davis' student-run food pantry already existed on campus, it was primarily used by undergraduate students who were experiencing food insecurity. Graduate students expressed a need for their own space.
"Grad students said they were really hesitant to use the undergraduate pantry because they worried about seeing students that they teach there and that, if that was to happen, it might diminish their authority in the classroom," Chodur said.
Chodur worked with GSA president, Jonathan Minnick, and UC Davis staffer, Leslie Kemp, to establish the GSA Pantry in the Spring of 2019. The Graduate Student Association Pantry, which is operated in partnership with Aggie Compass, now has a dedicated space in the newly renovated Walker Hall— the first center of its kind in the UC system that provides a home for the graduate, doctoral and postdoctoral community at UC Davis.
 The new space in Walker Hall will afford the GSA Pantry the opportunity to expand its storage space and have a refrigerator installed. Having a refrigerator will allow the GSA Pantry to offer more fresh fruits, vegetables and other perishable foods to students, in addition to non-perishable goods such as canned food, dried food and toiletries.
Donations to the Graduate Basic Needs Fund supports the GSA Pantry and plus other basic needs services for graduate students.
Micro-to-macro perspective
Through Chodur's various leadership positions, she has realized that many of the issues she is working on at UC Davis are also happening at the statewide and national level. She says having this micro-to-macro perspective on issues has allowed her to be a better problem-solver. She can learn what other institutions are doing and bring that knowledge back to UC Davis. Likewise, she can share UC Davis' approach to issues with other universities, which not only helps them but also bolster's UC Davis' reputation as a thought leader and change-maker organization. It also makes her an more effective leaders because she can identify the issues that are trending across the country in the graduate community and bring that perspective to the organizations she's serving with the goal of bringing about substantive, broad-sweeping change.
"I am very aware of how hard it was for me and my goal is to make it easier for the people who come after," Chodur said. "I recognize how lucky I am to be where I am. I think that everybody who is as passionate and dedicated should have the same opportunities and shouldn't be held back by things that are out of their control."
Secondary Categories