Interactive Art Exhibit Highlights the International LGBTQIA+ Graduate Student Experience
Exhibit Created by the Inaugural Recipients of the Global Aggies Award for LGBTQIA+ Rights, the Queer Trans Lab at the UC Davis LGBTQIA+ Resource Center
Quick Summary
Located in the main lobby of the International Center now through June 8, open weekdays from 8 a.m. until 5 p.m.
Visitors are encouraged to explore, reflect and share their own experiences of alienation and belonging.
International LGBTQIA+ graduate students encounter unique challenges and experiences navigating the UC Davis landscape. These experiences are translated into an interactive art installation by the Queer Trans Lab at the UC Davis LGBTQIA+ Resource Center, now on display in the UC Davis International Center. Alienation and Liminality: An Installation on International LGBTQIA+ Graduate Student Experiences on Campus was created by students Kait Murray, Santhoshi Ramanathan and Iris Xie, the inaugural recipients of the Global Aggies Award for LGBTQIA+ Rights, an annual award established through the generosity of former UC Davis Provost and Interim Chancellor Ralph J. Hexter and his husband, Manfred Kollmeier. 
Together with the LGBTQIA+ Resource Center and Chancellor's Committee of LGBTQIA+ Communities, in 2020, the group began a needs and assets assessment of LGBTQIA+ graduate students and staff. The assessment revealed a common theme of alienation and liminality.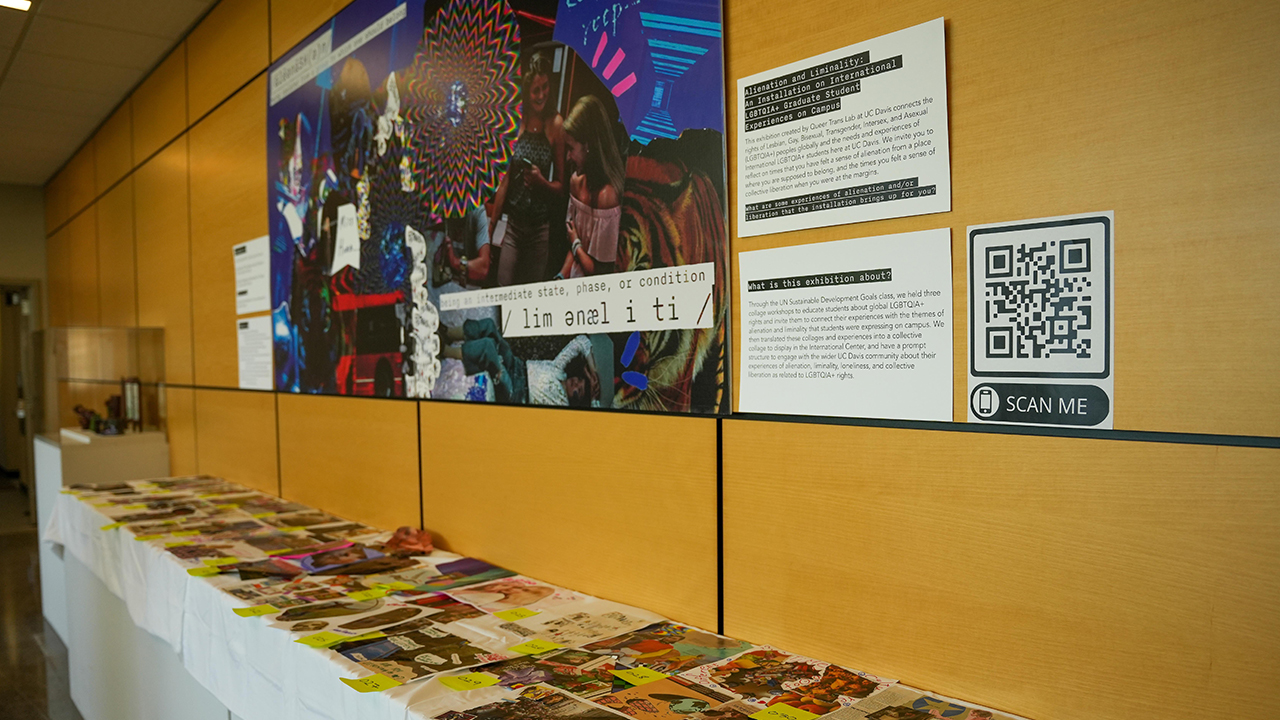 Viewers are invited to explore collages created by participating students to represent their lived experiences. (Nat DiMeglio/UC Davis)
"For international LGBTQIA+ graduate students, students frequently expressed feelings of isolation: from their international communities, their queer communities, and the broader UC Davis community," said Murray. "To be an international LGBTQIA+ graduate student is to be at the margins. In our study, we explored these feelings of alienation from the communities they are meant to belong to and existing in a liminal place within broader systems. Participants shared about the impacts of this marginalization and experiences of liberation that they have felt at the margins."
The group's effort expanded last quarter to include three collage workshops through the UN Sustainable Development Goals class, Becoming a Global Collaborator. The workshops facilitated discussions on global LGBTQIA+ rights and invited students to connect their experiences with the themes of alienation and liminality identified by international LGBTQIA+ graduate students.  
"Despite the students in the collage workshops having a variety of different lived experiences, they were able to connect to our broader theme of alienation and liminality. During the workshop, a lot of conversations were held regarding LGBTQIA+ identities, advocacy for their LGBTQIA+ friends in their home countries, and LGBTQIA+ policies and activism in the U.S. and in their home countries," said Ramanathan.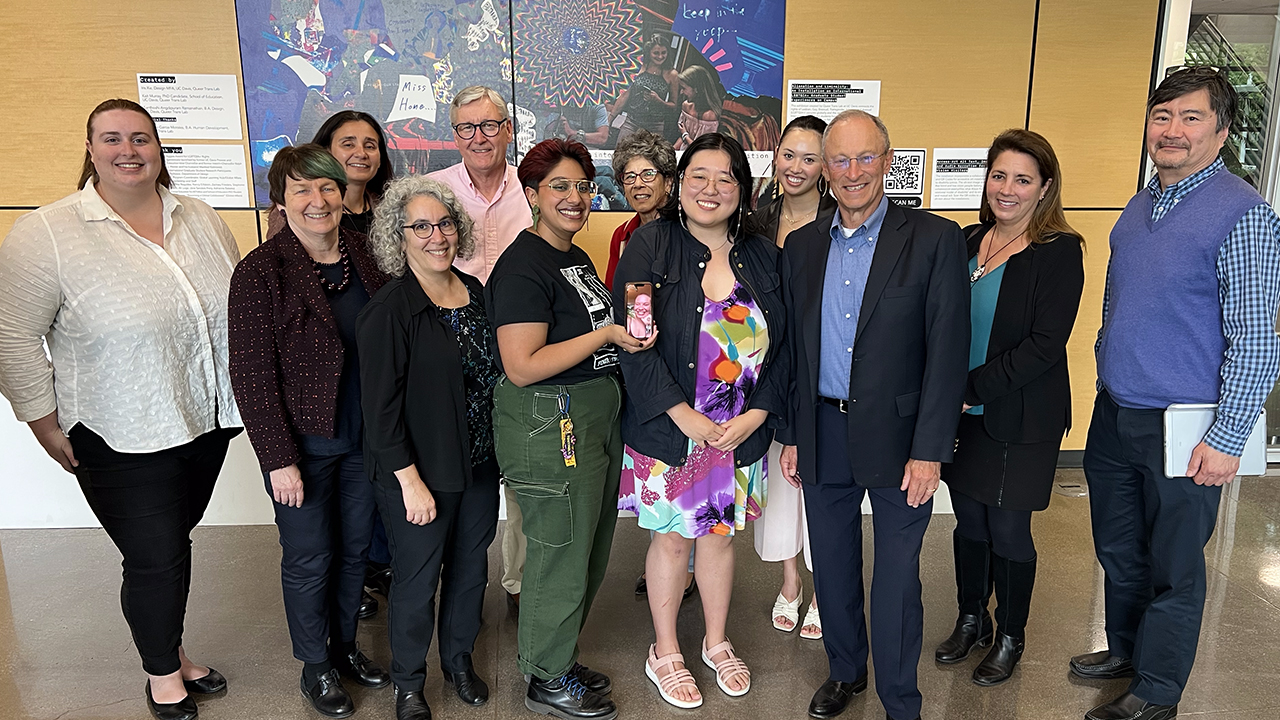 Past and present members of the Global Affairs Advisory Council joined Global Affairs and the UC Davis Queer Trans Lab for a tour of the exhibit. (Front, L-R) Glynis Kincaid (Global Affairs), Joanna Regulska (Global Affairs), Nancy Erbstein (Global Affairs), Santhoshi Ramanathan (UC Davis Queer Trans Lab) with Kait Murray (UC Davis Queer Trans Lab) on a video call, Iris Xie (UC Davis Queer Trans Lab), Ralph Hexter (former UC Davis Provost and Executive Vice Chancellor and former Interim Chancellor); (back, L-R) Esther Luna DeLozier (Global Affairs), Eivind Lange (Paradigm Sports), Caroline Cabias (former CFO, State of California Board of Equalization), Evie White (Global Affairs), Sandra Perez (former Director, UC California Program on Access to Care) and Naoki Shimazaki (GCA Law Partners LLP). (UC Davis)
This is an interdisciplinary and multi-discipline innovative research project in which the group split up responsibilities to spread the workload and balance their other academic and personal responsibilities. Murray created the qualitative research data assessment and led the collaborative qualitative interviewing and data analysis process. Xie served as creative director by translating the data into the art installation and design. Ramanathan co-created the design and installation while also representing the LGBTQIA+ international student perspective in the work. The display also includes alt-text QR codes for image descriptions for the collages. Tim McNeil, a professor of design in the Department of Design, loaned the prompt structure for the exhibit's interactive element.
With the funds, grant recipients completed the needs and assets assessment and translated the collages and student experiences into an interactive art installation now on display at the International Center until June 8.  
Visitors are invited to interact with the installation to see their experiences and the experiences of their friends and community represented within the space. 
The annual Global Aggies Award for LGBTQIA+ Rights
Make a gift to support the Global Aggies Award for LGBTQIA+ Rights
Read: "New exhibition at the International Center captures experiences of LGBTQIA+ international graduate students" from The California Aggie
---
About Global Affairs at UC Davis
Global Affairs brings the world to UC Davis, welcoming more than 10,000 international students, scholars and leaders, and hosting programs that inspire global curiosity, understanding and engagement. Compelled by the valuable outcomes of thinking globally, we make transformative opportunities a reality by supporting the thousands of students and faculty learning and researching globally—and by facilitating collaborations that tackle the world's most pressing challenges through more than 150 global partnerships.
Putting our vision of a UC Davis community that engages, thrives, and leads in this interconnected world into action, Global Affairs is in pursuit of an ambitious goal: Global Education for All.