GSA President Leaves Lasting Impact on Graduate Community
Jonathan Minnick reflects on accomplishments, graduate experience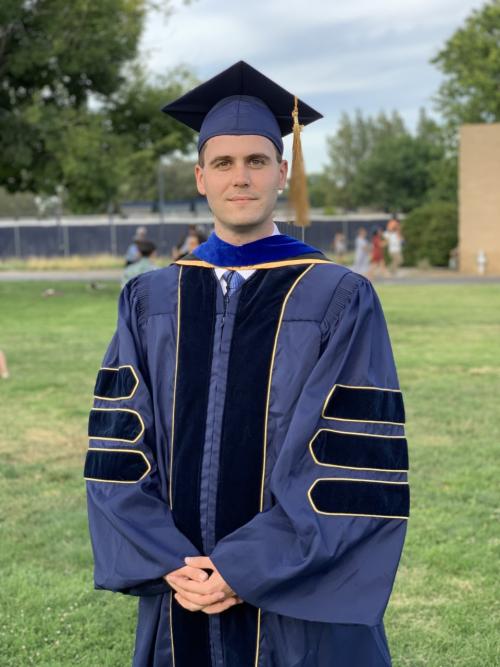 Jonathan Minnick, Ph.D. '22 was never one to step out in front of the crowd. 
"As an undergraduate student, I grappled with self-confidence," Minnick said.
This all changed when he came to UC Davis for graduate school in 2016 and saw a way he could help others. 
That desire to be an advocate for UC Davis' more than 6,000 graduate students motivated Minnick. He served, not just one, but four years as president of the UC Davis Graduate Student Association (GSA) — making him the longest-running president in GSA's history. Now, as recent graduate reflecting back, he says his GSA experience not only boosted his self-confidence, but also enriched his graduate student experience and prepared him for his new career as associate editor of New York City's Metropolitan Opera.
"In the association, I found myself thriving," he said. "That gave me the confidence boost I needed to start saying, 'Yes, I can do all these things.'" 
A Team Effort
First elected in 2018 and then again in 2020, Minnick's primary responsibility as GSA president was to lead the staff of seven in advocating for graduate students on a wide range of issues: from COVID-19 accommodations or workplace deficiencies to transportation and basic needs.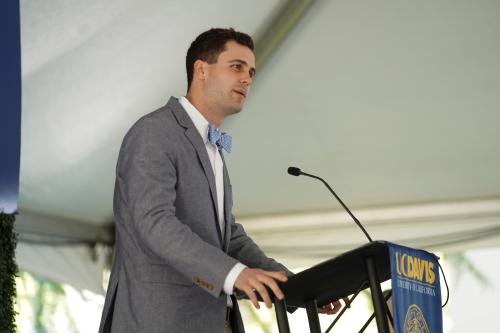 He also led the association in hosting graduate student events, providing funding for graduate student needs and travel, and funding special graduate-student focused projects across campus. Minnick also served in a primary leadership role in the opening of the Graduate Center at Walker Hall—a first-of-its-kind center in the University of California system that is specifically tailored to the graduate student community. 
"I rely a lot on my staff members," he said. "We are an efficient little team.   They're all amazing. I trust them wholeheartedly to do their jobs very well. It really is a collaborative team effort."
The GSA Pantry - A Leading Achievement
Of all his accomplishments during his two terms as president, Minnick is most proud of how the GSA helped establish the GSA Pantry in the Graduate Center. It allows graduate students to access food and basic needs in a location separate from the undergraduates that they frequently instruct.
"It's the first in the country that we know of," he said. "The model is so successful that we're sharing it with other organizations across the country. They want to figure out how to do something similar. Our whole organization is extremely proud of it. It's taken off more than we ever imagined it would."
The GSA Pantry began with two cabinets of dry goods. Now it offers perishable and nonperishable food, meals and personal hygiene items. Fundraising has been so successful that The GSA Pantry is hiring two managers, which will allow for extended hours.
"I will be forever proud of that," he said.
Insight and Appreciation for UC Davis Leadership and Communities
Minnick's role required him to work closely with administrators, deans, the Chancellor, the academic senate and graduate student council, as well as various committees.
"I got to develop a relationship with these people, and that is an extreme privilege," he said. "There are times when the relationship can be adversarial and times when it's collaborative, and that's the nature of working in any situation like this. You're not always going to see eye-to-eye, but what's amazing about the whole thing is how supportive everyone's been."
UC Davis a Perfect Fit for Eco-Musicology Research
Minnick balanced the demands of GSA president all the while pursuing his own research and working part-time at the Graduate Pathways Institute for Professional Development.
Minnick began his Ph.D. in musicology with an interest in the music of nature, or eco-musicology, a specialty of several music faculty. It was a primary reason Minnick chose to study at UC Davis. 
One of his first-year courses inspired him to research the music of outer space as composed for film scores during the Cold War, especially classic films like Planet of the Apes, 2001: A Space Odyssey, The Day the Earth Stood Still, Star Wars and Star Trek films.
"I was really curious about … what film composers in the Space Race/Cold War era thought outer space might sound like and what are the ecological implications behind making outer space sound a certain way," he said. "I'm interested in the critique of advanced technology and why are people so fearful of certain types of advanced technology, like nuclear. There are also issues of conquest and what is our role in going to outer space. What are we doing when we get there?"
He continued, "The faculty members I met with were really great. It wasn't a very traditional topic. But once it blossomed, a lot of them caught on that this is actually really good. There's something here and it's worth supporting."
Graduate Experience Dovetails into Opera Job
All his experiences at UC Davis will come together as Minnick begins his associate editor at The Metropolitan Opera in July 2022. In this role, he will write, create and tell stories, drawing heavily from his experience with GradPathways Institute for Professional Development, where he helped transition its website, write newsletters, track data and edit video content for its YouTube channel.
"What's really nice about this job, it allows me to keep being an academic, but it also gives me that joy of working for an arts nonprofit that's really fun to be a part of—making music and putting on music for people," he said. "This is going to be such a good opportunity and I'm just excited to be part of it."
Primary Category
Secondary Categories