Graduate Studies Launches Graduate Mentoring Initiative for Faculty Mentors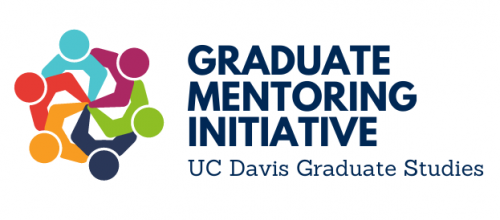 Graduate Studies is excited to offer the new Graduate Mentoring Initiative (GMI) program for UC Davis faculty beginning October 2021. GMI is a quarterly initiative designed to foster an engaged culture of faculty-graduate student mentoring across all academic disciplines. The application is now open for the fall quarter program. 
At UC Davis, faculty mentors help guide graduate students on their academic and professional growth. They also support students in finding resources to meet their personal needs and goals. An investment in mentoring enhances graduate student retention and well-being, allowing graduate students to successfully navigate and thrive in graduate programs.
The GMI program is a series of six interactive sessions that faculty will participate in as a cohort. These sessions will showcase faculty experiences and mentoring resources at UC Davis and will cover the following topics:
Aligning Expectations

Maintaining Effective Communication

Addressing Equity and Inclusion

Enhancing Mentee Work-life Integration

Promoting Mentee Research Independence

Articulating a Mentoring Philosophy
Apply Now for the Fall GMI Program
Program Details and Registration
Faculty must be available to attend all six sessions.
Dates: Wednesdays, beginning October 13 through November 17
Oct. 13,  Oct. 20, Oct. 27, Nov. 3, Nov. 10, and Nov. 17
Time: 12-1:30 pm
Location: Zoom
Deadline to apply: September 30, 2021

Apply Now 
Registration for GMI will be open on a first-come basis and limited to 20 participants. Applicants will be notified once they are accepted into the program. Visit the GMI webpage for more details on eligibility, cohort size, and registration waitlist. 
Graduate Studies Outstanding Mentors Serve as GMI Mentor Fellows
Each GMI session is led by a UC Davis faculty facilitator, or mentor fellow, who will lead discussions on best practices, helpful tools, and ways to grow and develop as mentors. All of our mentor fellows have been recognized as outstanding mentors within their graduate programs and serve as leaders in mentoring for campus. Below are this year's GMI mentor fellows.
Past GMI Participant Testimonials
The GMI was developed in consultation with an advisory board of faculty, graduate students, and staff. It was piloted to a group of faculty across disciplines during spring quarter 2021, who have this to say about their experience:
"I think the program reinforced the kind of core values that I've held regarding my mentoring approach and it has equipped me with concrete tools and strategies to further improve the way I communicate with my mentees as well as enhance their sense of self-efficacy." - Kevin Gee, Associate Professor, Education 
"The workshop forced me to think more critically about my mentoring philosophy and to develop tools for matching my philosophy to my actions. I think that's been the biggest challenge for me - finding specific ways to mentor according to my philosophy, and the workshop helped a lot!" - Corrie Decker, Associate Professor, History
"What stood out to me the most from the program is understanding that each student is unique and mentoring must be tailored differently to each student based on their background, preferred communication style and career goals, among others."- Gerardo Mackenzie, Associate Professor, Nutrition
Visit the mentoring initiatives website to learn more about innovative mentorship practices at UC Davis Graduate Studies.
Primary Category
Secondary Categories