Erin Kent honored as 2022 Outstanding Graduate Program Coordinator
Kent uses research training to support graduate students in their careers
It's not often that administrators are described as guardian angels.
But that's how students in the integrative pathobiology graduate group view the program's popular coordinator, Erin Kent '05, Ph.D.'10.
Their effusive nomination letters earned Kent the 2022 Outstanding Graduate Program Coordinator Award for her work during the past four years. Kent is the graduate program coordinator of the integrative pathobiology graduate group, as well as the veterinary scientist training program at UC Davis.
"It means," said Kent, pausing to wipe away tears, "that my behind-the-scenes work has not gone unnoticed and that my students know that my door is always open, that I genuinely care about their successes (and the challenges they are facing), and that I am here to do more than just monitor their progress in the program."
Being a program coordinator is a delicate juggling act – demanding the organizational expertise to lead and administrate with excellence while simultaneously nurturing students through the psychological speed bumps of their educational journey.
Students praise Kent on both counts.
"Everything runs smoothly when Erin is in charge, and you know it will be a success," wrote Arturo Oliver- Guimerá, president of the group's student executive committee and fourth year Ph.D. candidate.
Third-year Ph.D. candidate Malvina Tsamouri pointed to Kent as key to her exam performance.
"I was amazed by how concerned she was not only for our academic success but our overall happiness," Tsamouri wrote. "She was a determining factor for my success during my Qualifying Exam (QE). I took my QE in summer 2020, during the pandemic, and Erin supported me not only with the logistics of arranging the actual exam but also emotionally."
Driven by love for people and for science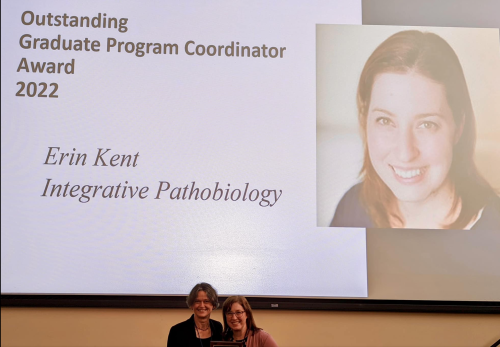 Kent can empathize with the emotional highs and lows of research because she earned her own undergraduate degree in cell biology from UC Davis, then went on to complete her Ph.D. in cell and developmental biology in 2010.
"I think that's why I'm good at my job – because I've been through it," she said.
While a student, Kent recalls, "I was always kind of the lab mom helping people. I feel like I can connect with people and advance their science and help them contribute to society. I love science and I love working with people."
Her love for people – and the decision with her husband to start a family – are what led her from the lab to shepherd other fledgling scientists into their own research careers.
It was a decision that, at first, baffled her professors and advisors.
"They couldn't understand why I would pursue administration instead of science, but I'm really glad I made that change," she said. "I'm helping [the students] do their science and helping guide them in the process. You have to retain people in a program, and if they're not happy and they don't know who to go to, you might miss out on developing a scientist."
A "lab mom" whose door is always open
Her efforts to ensure the happiness of students hasn't gone unnoticed by students, as seen in their nomination letters.
"Without Erin's encouragement, I would have never had the opportunity to pursue the Veterinary Science Training Program," wrote second-year student Ashleigh Flores. "She truly has truly changed the trajectory of my career goals for the better."
Her colleagues in Graduate Studies have also taken notice of how much Kent goes above and beyond for her students.
"Not only does Erin treat her students and faculty with tremendous empathy and concern," said Nicole Rabaud, executive director of student and postdoctoral support in Graduate Studies. "Erin also provides advocacy and leadership, and has effected positive changes in inclusive recruitment, student well-being, and curricular and advising structures."
A logistics and innovation dynamo
In addition to supporting graduate students' academic and mental well-being, Kent has done a tremendous job developing and improving logistical elements of the program, wrote Sara Thomasy, chair of the graduate group, in her nomination letter to the award committee.
For example, Kent is responsible for coordinating all aspects of admissions and recruitment, monitoring student academic progress, course scheduling, course support and instructional credit. Despite juggling a lot, Kent introduces innovations, Thomasy noted, such as introducing and operating a new lab rotation system that helps students find the lab that will best fit them.
Kent has organized town halls for prospective students as well as virtual and in-person events to keep students connected during the COVID-19 pandemic. She acquired funds to cover admission costs for prospective students to the group, Thomasy went on.
Perks of the job are seeing students' successes
But what is most satisfying about the job, according to Kent, is playing a part in her students' success.
"I'm just really happy with where I see my students going and what they're contributing to," Kent said. "They've gone into industry or to run their own labs in academia or government. It's really cool to see where they're ending up and that I'm part of that process."