A Commitment to Community
CEO of United Way California Capital Region Dawnté Early's interest in data leads her to a career dedicated to her community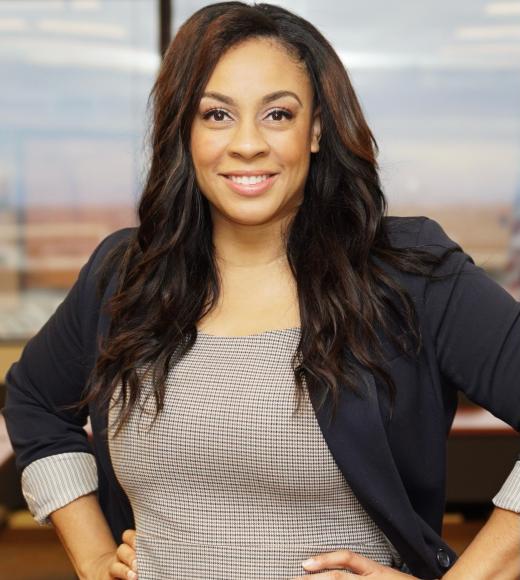 When United Way California Capital Region President and CEO Dawnté Early '05, M.S. '08, Ph.D. '11 was an undergraduate at UC Davis, she had an unlikely classmate who inspired her studies beyond anyone else. It was her infant son.
Early, who is a City Council Member of West Sacramento in addition to being a leader in the Sacramento region, transferred to UC Davis from Alabama A&M after her sophomore year to be closer to her family to help with her son.
A unique way to study child development
Early focused on her studies, pursuing a bachelor's degree in psychology with an emphasis on  human and child development, often bringing her son with her to class "because I didn't have a choice," she said. She was pleased to learn the newly-opened Graduate Center at Walker Hall holds a space exclusively for graduate student parents, the Lenora A. Timm Parent Study Room.
"My son literally grew up in class at UC Davis," said Early with a chuckle. "As I'm sitting there, learning about child development, he's there in a baby carriage sucking his thumb as we are talking about him and the development of his brain."
Early said, while it was her family that originally brought her to UC Davis, it was the support of the UC Davis community that motivated her to stay.
"Having teachers who allowed me to do that was really life changing for me. I wouldn't have been able to finish my degree without the friends, family, professors and mentors who were willing to support me," Early said. "That was one of the things I loved about UC Davis. For me, everyone was so supportive. Davis felt like a community for me and for my son and that helped me be successful."
McNair Scholars opens eyes and opportunities
An important element of Early's support network was McNair Scholars program. The McNair Scholars Program is a federal program that prepares undergraduate students for doctoral studies. To be eligible, scholars must either be first-generation college students with financial need or students from groups that are traditionally underrepresented in higher education and show strong academic potential. Staff with the program, whom Early calls "her guardian angels," helped her realize that the idea of a graduate-level education wasn't out of reach for her, but instead a real possibility.
"My mind was blown," she said. "There was a whole world I didn't know existed until I became a McNair Scholar."
Influential undergraduate research project
Through her involvement in the McNair Scholars program, Early also became involved with a research project where she discovered that she not only had a knack for understanding and analyzing data, but also that she could extract information from data to uplift the voices of others. She also learned from her mentor, Distinguished Professor Keith Widaman, how employable that skill set would be.
"He sat me down and said, 'if you can master the analytical aspect of this work, you will always have a job,'" she said. "I was a young mom at the time. Plus my parents, in addition to serving in the Air Force, had to work a second job to pay for my education. So, the idea of having financial security for my family pushed me over the edge. I was like, 'I can do what I love and have a comfortable life? Done!'"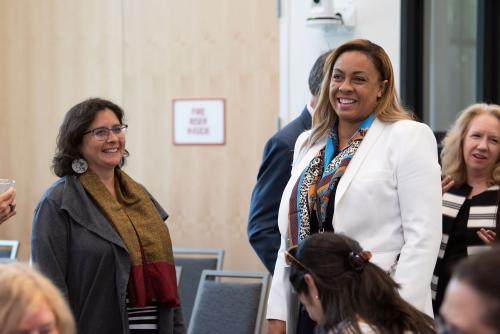 A supportive graduate school experience
She applied and was accepted to UC Davis' doctoral program in human development, earning a master's in child development in 2008 and a Ph.D. in human development, with a minor in quantitative psychology, in 2011. She then pursued a postdoctoral research fellow at the UC Davis Medical Center in neurology.
"For me, it was not just a master's and doctorate. It was also being able to have my son and my family come and see me walk across the stage," she said. "My parents worked really, really hard to invest in me and my education because they saw that education was what was going to enable me to have more than they did. So, for my dad and mom, to see me get my master's and Ph.D. meant even more because they were a large part of why I got there."
Early paused, holding back tears, then continued, "I just hope they are proud of me and what I've been able to accomplish."
Uplifting voices through data
Early started her career with the State of California serving as a public health researcher. She  then worked for the Department of Public Health, California Department of Corrections and Rehabilitation and the Department of Health Care Services. In this role, she led important research on the Affordable Care Act and the impact of health care services on the recidivism of individuals released from prison.
Then in 2020, with the murder of George Floyd and the chaos of the pandemic, Early felt it was time to take her community work to a new level. She decided to run for city council in West Sacramento and won. In running for city council, Early became even more invested in the community and realized she wanted to do more community-engaged work for a living. So, when the opportunity to become the President and CEO of United Way California Capital Region arose, she decided to go for it. In Nov. 2021 Early began leading the local United Way chapter as it nears its 100th anniversary year.
"So much of why I did the work I did at the state was to use data to engage communities and figure out what people need. Now, I feel like I'm doing similar work but I'm now in the trenches, feeling the impact of that work on the community," said Early, who also serves as a Girl Scout troop leader and basketball coach for the West Sacramento parks and recreation league.
Under her leadership, United Way California Capital Region is investing in numerous initiatives to help children and families in our region all with the goal of trying to end poverty in Amador, El Dorado, Placer, Sacramento and Yolo counties. According to Early, the only way to address this large-scale, complex and complicated issue and make any substantive change is to be collaborative and open to new ideas—something she learned at UC Davis.
"I truly believe that everyone has a voice and everyone's thoughts and ideas matter. We need diversity—not just of people, but of thought—because the differences are where the magic happens. That's the secret sauce," she said. "When you bring those thoughts together, that's when I think real transformational change happens."