Information for California Participants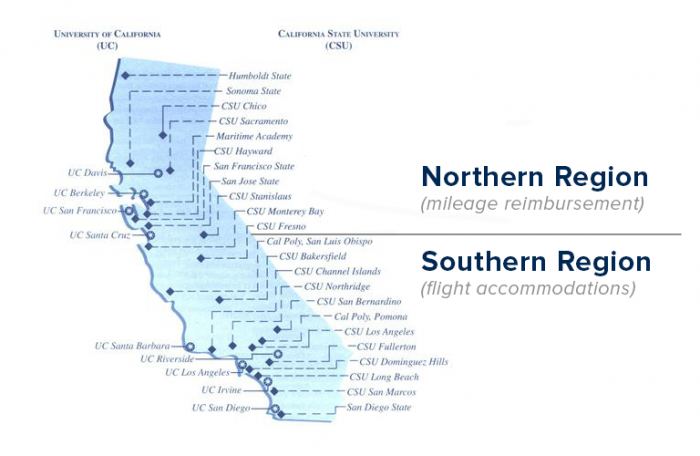 The following travel accommodations will be covered:
If you are located North of Fresno, you will be reimbursed for mileage after the event.
If you are located South of Fresno, flight accommodations will be made for accepted applicants.
Hotel accommodations will be covered for all accepted applicants.
Some meals will be included during the event.
Travel not covered:
Any incidental charges at the hotel. UC Davis will cover room and taxes, not incidentals. You will be required to put down a credit card upon check-in.
Any travel outside of what is provided (i.e. airport parking, car rental, extra hotel nights, flight changes, etc..)
Some meals
Forms
Photo Waiver

Frequently Asked Questions:
What is the schedule of events?
The Envision program is an immersive 2 1/2 days (Thursday afternoon through Saturday). Accepted participants should plan to dedicate the entire time to taking advantage of the many elements provided: including department and lab tours, admissions and financial info sessions, networking opportunities, one-to-one faculty meetings, engaging socials with graduate faculty, alumni, students, and staff, and much more. A finalized detailed schedule will be provided to accepted participants closer to the program date.
When will I be notified of my application status?
Applicants will receive application status notifications no later than June 2022.  After careful review of your application by the committee, you will receive a notice of accepted or denied or wait-listed. 
How will I receive updated information regarding the Envision program?
Direct correspondence to applicants will be distributed through email. It is important that you provide an email account, which you access regularly, on your application. Once accepted, applicants should check their emails (including spam) frequently between July to October for Envision correspondence. For general information and updates about the Envision program, please check the Envision website grad.ucdavis.edu/envision.
What cost does the Envision program cover?
The Envision program covers hotel accommodations, workshop fees, some meals, materials, and transportation (based on the travel guidelines provided above).
Who is responsible for making the travel arrangements?
Envision Staff will be in contact with each accepted applicant to make travel arrangements.
How much will I be reimbursed for my travel expenses?
You will only be reimbursed for mileage if you are traveling North of Fresno. Our Staff will calculate the cost from your campus location to UC Davis campus.
How do I get from the Sacramento airport to campus?
We will have a shuttle picking up students on October 13 and dropping students off on October 15. If you cannot make the shuttle, you may take a Uber/Lyft, taxi, or airporter shuttle. Please note, you will not be reimbursed for those outside travel expenses. 
When should I plan to be in Davis?
Plan to arrive by 4:00 p.m. on Thursday, October 13, 2022. 
When should I plan to leave?
Plan to depart Davis around 2:00 p.m. on Saturday, October 15, 2022. Your flight accommodations will be made for after 2:00 p.m., unless specified that you need to return earlier.  
If I want to come earlier and/or stay later. Is that allowed?
Your lodging is paid for two nights in the designated hotel—Thursday and Friday. You are responsible for any lodging prior to and beyond these days. You are also responsible for any incidentals charged to your room upon checkout.
What should I bring?
Overall, bring a light rain jacket or umbrella. October weather can sometimes be finicky in Davis so make sure you have something to wear if it's wet and cold. 

Wear comfortable shoes. We will be walking on campus tours, visiting research labs, and meeting faculty and staff across UC Davis.

Dress to impress. The Envision UC Davis program provides opportunities to meet with several faculty, staff, and graduate students. And our first order of business will be a reception with the Chancellor.

Most of all, have fun! Enjoy everything UC Davis has to offer and ask a lot of questions. The faculty and staff are here to help you achieve your graduate education goals.
 
Should you have any questions about travel accommodations, please email us at envision@ucdavis.edu